What is IFSC code: Full form of IFSC, How to Find

If you transection money online, Definitely you need an IFSC Code for various types of online Transection. In this article, I explain What is IFSC Code, How does Code mean and required, and How to find your IFS Code.
What is IFSC code?
IFSC Code stands for Indian Finance system code. Every Bank Branch has a unique code for their customer.RBI( Reserve Bank of India) Provides this Code for every Bank branch. This Code has 11 characters, By the Ifsc code RBI can easily find any Branch in India easily. This helps to transfer money online like RTGS, NEFT, etc.
How does IFSC Code mean and required:
---
This code has 11 Digits. The code has eleven characters "Alpha Numeric" in nature. The first 4 digits indicate the name of the Bank. but, the 5th character is 0 (zero) and reserved for future use, and the last 6 digits are called Branch Code, which means branch location. This Code used for Electronic Payment, This code provides various online money transfer options Like RTGS, NEFT, and CFMS.
You cannot transfer money to India without this code because you will be unable to specify where the account you are sending money to is located.
This code help's the specific banking branch where your money is being sent. Similarly, When someone sends money to you, this code is necessary for that case. But If you use UPI Tranjection you don't need this Code.
Read More: Good and Bad Side of the Internet, Online banking
How to find your IFSC Code:
---
Three-ways to find your IFSC Code.
From Your PassBook
From your Checkbook
 Website.
This is the most common way to find out the Code. When you open a bank account, Bank gives you a passbook. On the front page of your passbook, you can see your personal details like account number, address, branch code, Account Holder name, etc. There you can See your Branch IFS Code.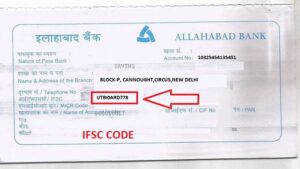 If you have Check Book, So In this way you can find the Code. In the Check Book, You can see your Bank Name, Branch Name, Account Number, Account Holder Name, this Code, MICR number Etc. There You can easily find Code Number.


If you like the article please comment below
Read Also: