Top 7 best features of upcoming Android 13: Tap to Transfer, Optimization in notifications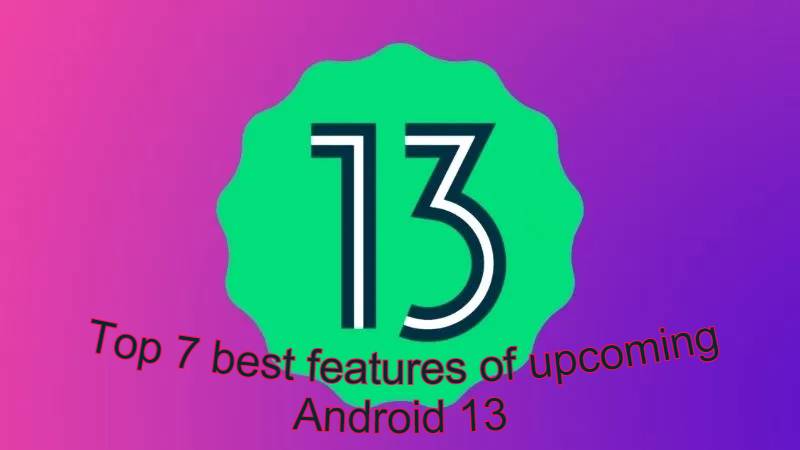 Although Android 12 was released in October of last year, the majority of Android devices have not yet received the upgrade. In this article, you will know about the Top 7 best features of upcoming Android 13 like Tap to Transfer, Optimization in notifications, and Bluetooth Low-Energy Audio. In the meantime, Google has made available the first developer preview of Android 13, which will be used to evaluate the upcoming version of the Android operating system.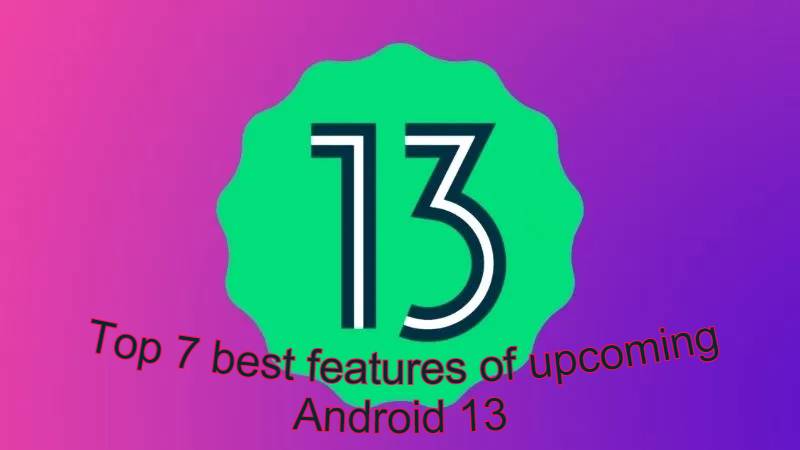 Android 13's initial developer preview was released in February. After finishing the development of Android 12L, Google developed this update. However, Android 13 won't see any changes just yet; instead, this will provide the basis for the first developer preview. Every month for the following six months, Google will release a new preview or beta version, revealing more new features. Learn about the updated features and modifications in Android 13 now.
Top 7 best features of upcoming Android 13
1. Tap to Transfer
Remember "Android Beam", the feature of two phones sharing links, files, etc. by tapping with each other? Later, instead of this feature, the Nearby Share feature was added to Android. Considering the versatile benefits of the Tap to Transfer feature, the feature has been brought back in the form of the code name "Media TTT".
By bringing multiple devices to the same place, the media of one device can be enjoyed by playing on another device through tap-to-transfer. Apart from this, this feature can also be very useful in connecting smart home devices quickly.
2. Better Theming
Google is quite determined to ensure that developers can take full advantage of Android's Material UI edging. On Android 13, the icons of all the apps that support the theming options of Material UI are going to be featured. As a result, the theming system of Material U is going to be even more extraordinary.
Android 13 also has a feature called quick settings placement API that helps you find apps that can be used on quick tiles. In addition, for multiple speakers, a feature has been introduced for selecting which language you want to use the app in case of the app setup for the first time.
3. Optimization for large screens
Google proves that Android can work well even on large screens and foldable phones with Android 12L. Google has come up with optimization for big screens thinking about tablets, foldable, and Chromebooks on Android 13. However, there is no clarity on what kind of updates might come in this category.
4. Optimization in notifications
Android has always been ahead of iOS in terms of notification management and display. However, Android's position with permission management was not as advanced as apple devices. However, Google has paid attention to this, and as a result of which permission will be sought for notifications of newly installed apps on Android 13, through which notifications can be turned on or off directly.
5. QR Code Scanner
Most of the time, a scanner app, Google Lens, or camera app is used to scan QR codes on Android phones. However, to make this matter a little easier, the quick tile of the QR code scanner is going to be directly added to Android 13.
However, it is not known whether it will act as an extension of the camera app or if there will be a separate app for QR code scanning. However, this feature has been greyed out, which may work in a later update. For those who scan more QR codes, this new Quick Tile feature of Android 13 is going to be their favorite.
6. Bluetooth Low-Energy Audio
Bluetooth low-energy audio is going to be added to Android. Through this, instead of regular Bluetooth audio streaming, the audio stream will be streamed in an efficient way that is able to deliver the same audio quality even if you use less energy. In addition to full support for Google's hearing aid protocol, multi-stream support, as well as audio streaming on multiple audio channels can be enjoyed on Android 13.
7. More updates by Google Play
Google prefers to provide app updates through the Google Play Store to ensure that all Android version users can enjoy the benefits of the new apps. Google's favorite feature on Android 13 is going to come under the name "Project Mainline" through which the exclusive features of Android can be used by updating them through the Play Store.
It is worth noting that the mentioned features have been found in the developer preview of Android 13. These features may not come in the final stable version of Android 13. Some new features may be added.
---
I think you get the information about the Top 7 best features of upcoming Android 13. If you liked this post, please share this post with your friends. Thank you so that this important information reaches other people as well, and they can also take advantage of it.
Read Also: