Jio True 5G: Power test of Jio's 5G network in Kolkata, a sign of big change in agriculture-education-health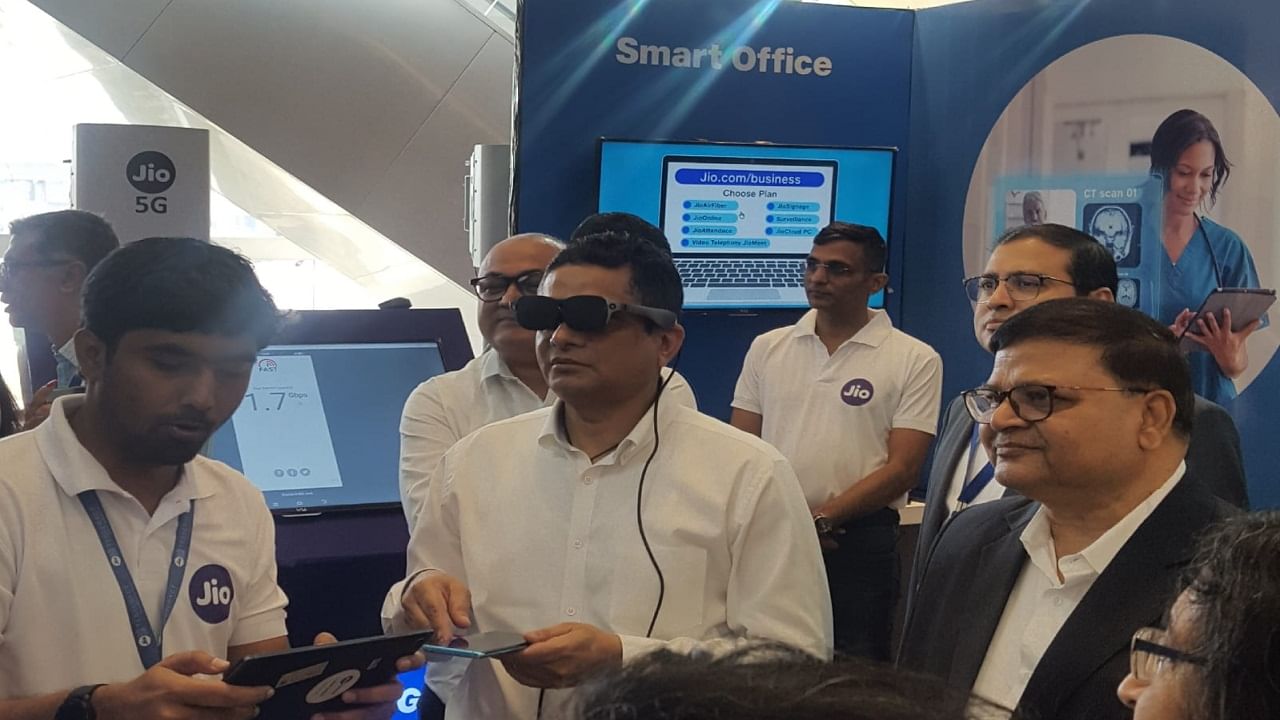 Reliance Jio News: Engineers of Jio are working day and night to cover the entire Kolkata in this calendar year. Mukesh Ambani's telecom firm is committed to expand the rollout process of 5G network across West Bengal starting from Siliguri, the gateway of North Bengal.
Rajeev Kumar, Principal Secretary, IT&E Govt Department, IPS Officer, West Bengal after Jio Glass.
Jio Experience Center Kolkata: A month and a half ago, Reliance Jio's 5G service in India started its journey from Mumbai. The 5G network was launched that day by Prime Minister Narendra Modi himself at the company's Experience Center in Mumbai. At that time, the Prime Minister was seen wearing a pair of glasses (Jio Glasses) to test the use case of Reliance Jio's 5G network. Rajeev Kumar, Principal Secretary and IPS officer of West Bengal's IT&E Government Department, was seen wearing the same Jio glasses at the Biswa Bangla Convention Center in Newtown, Kolkata that day. Reliance Jio set up its Experience Center at Biswa Bangla Convention Center in Newtown. Apart from Rajeev Kumar, Shri Adhvesh Singh, Executive Vice President, Eastern and Western, Reliance Jio was also present there. Learn from the Jio Experience Center in Kolkata how the company's 5G network can accelerate the lives of people everywhere, from agriculture to education in Kolkata and Bengal.
Jio Engineers are working day and night to cover entire Kolkata in this calendar year. Mukesh Ambani's telecom company is committed to expand the 5G network rollout process across West Bengal in a phased manner, starting from Siliguri, the gateway to North Bengal, to various parts of Assam/North East India.
Reliance Jio's Jio True 5G has come a long way in the race to become the most advanced 5G network in the world. The Mumbai-based telecom giant is about to bring about the biggest revolution in the network. This time Jio is prioritizing the roll-out of its advanced True-5G network in West Bengal, so that the people of Bengal can take advantage of this advanced technology and improve their lives.
Three key benefits of Jio True-5G to become the only true 5G network
1) Advanced 5G network independent 5G architecture with no dependency on 4G networks.
2) The largest and best mix of 5G spectrum in the 700 MHz, 3500 MHz and 26 GHz bands.
3) Carriers combine these 5G frequencies into a powerful 'data highway' using an advanced technology called aggregation.
Jio users are getting internet speed between 500 Mbps to 1 Gbps on their smartphones, which they can use without fear. Some use cases of Jio were showcased at a workshop organized by DoT and Department of IT and Electronics, Government of West Bengal on Monday, 14 November. An experience center has also been set up for this, which will help in changing the lives of lakhs of people of the state. The Mumbai-based tech giant today said that they are determined to work closely with the West Bengal government to strengthen the vision of 'Going Bengal'. Mukesh Ambani's telecom firm adds with a promise, "Bangla will be next with Jio True 5G."
Some of the transformative use cases showcased at the Jio Experience Center today:-
agriculture: The West Bengal government has several initiatives like 'Mati Katha' where it can help with IoT (Internet of Things) and drone based precision agriculture solutions. On the other hand, it can reduce over-spraying of harmful chemicals, fertilizers and pesticides for agricultural improvement.
education: Digital learning will not only reach the remotest corners of the state. Also the lack of physical infrastructure will be bridged, the use of interactive 3D models through AR or Augmented Reality through which students can learn important subjects in a more fun way.
Health care: Bring in quality healthcare specialists in geographic areas with limited health facilities. By enabling smart healthcare solutions such as tele-radiology, connected ambulances, clinics, 5G networks can provide high quality healthcare in rural and remote areas.
Smart Office: With this advanced and fastest network, offices are set to become smarter with easy and wireless plug and play solutions like Jio AirFiber, Cloud PC, Video Telephony-Surveillance, Digital Signage.
Possibility of Better Mobile Broadband: Jio True can enrich the lives of every citizen of the state and empower them to do more by providing broadband-like speeds to mobile phones wirelessly through 5G networks.