Flipkart Big Saving Days sale: You can get items from 99rs take a look at the sale's special offer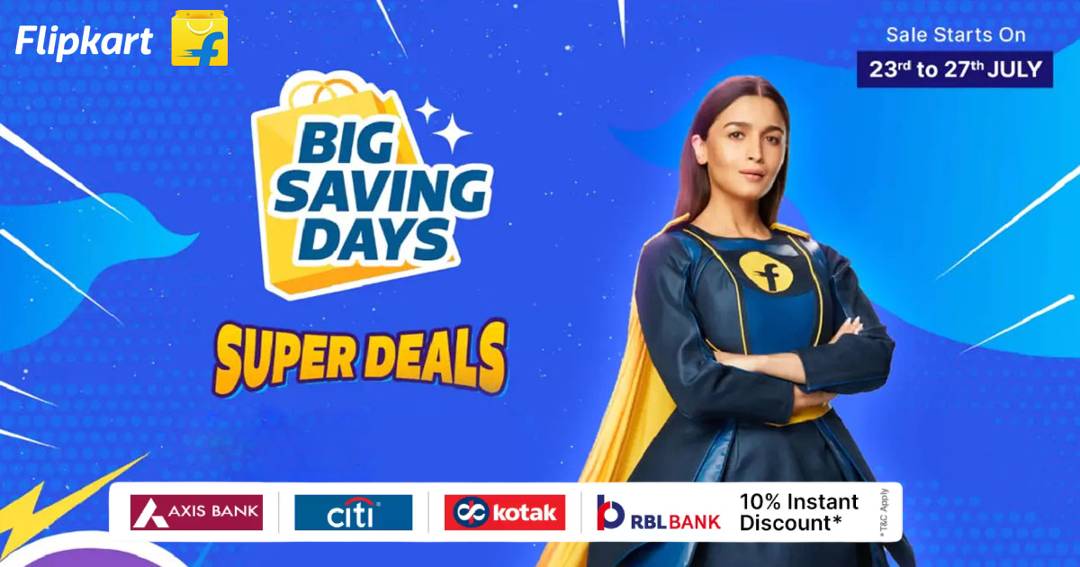 Flipkart Big Saving Days sale: Every Year in  July Month Flipkart offer Flipkart Big Saving Days where you can buy the product at very low prices. You can get items from 99rs. the sale Starting tomorrow, July 23, the special deal will be available on both the Amazon and Flipkart (Flipkart) platforms.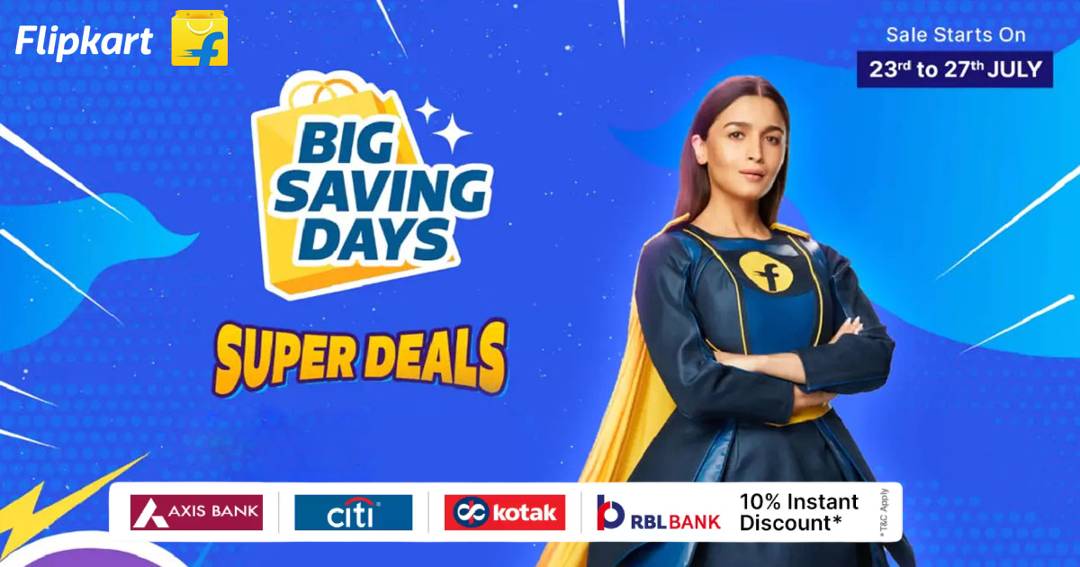 In that scenario, starting at midnight yesterday, Flipkart "Plus" members will have the opportunity to shop in the company's "Big Saving Days" (Big Saving Days) promotion (July 22). In that case, this Flipkart sale can be your destination if you're looking to get smartphones, tablets, laptops, or other electronic devices at a discount right now.
In actuality, just like at other times, you will find a tonne of bargains and discounts during the Flipkart Big Saving Days on a variety of goods.
However, keep in mind that since the offer will be ongoing through the 27th of July, you must make your buy by then. Now, let's take a look at the sale's special offer.
The Flipkart Big Saving Days Sale:
For
the
sale,
Axis
Bank
has
partnered
with
Citi
Bank,
Kotak
Bank,
and
RBL
Bank.
As
a
result,
if
you
use
any
of
these
credit
cards
to
make
purchases
during
the
sale,
you
will
immediately
receive
a
10
percent
discount. 
Again,
during
the
"Crazy
Deals"
period,
buyers
will
be
able
to
purchase
a
limited
number
of
products
for
a
very
low
price
at
12
pm,
8
am,
and
4
pm. So let's grab the Offer.
How much discount on a product special offer
Customers will receive offers on smartphones from the oppo, apple, Vivo, and realme brands as a result of the Big Saving Days event.
In this case, there will be a discount on the cost of various mobile phones, and customers will also be able to get their hands on a brand-new phone through free EMI, exchange, pay later, or super coin.
Most significantly, if you purchase a smartphone at this time, the "Flipkart Quick" service will have it delivered to you in 45 to 50 minutes. At the same time when devices will be up to 80% off, headphones and speakers will be available for purchase at a 70% discount. You can purchase a mouse, keyboard, and other attachments for Rs 99 at launch. Again, if you're planning to get a new tablet, you may save up to 45%. Smartwatches will also be discounted by up to 65 percent. Additionally, TVs and other appliances are available for up to 70% discount.
Again, you can purchase kitchen appliances and air conditioners from here for as little as Rs 299 and at a discount of up to 55%. In addition, furniture buyers will receive discounts of up to 80%.
I think you get the information about the Flipkart Big Saving Days sale: You can get items from 99rs take a look at the sale's special offer. If you liked this post, please share this post with your friends. Thank you so that this important information reaches other people as well, and they can also take advantage of it.
READ MORE: